Barnet Starbucks turned into library by Barnet residents, UK Uncut & Occupy London supporters
Pictures at https://twitter.com/OccupyLondon
Barnet Starbucks turned into library by Barnet residents, UK Uncut & Occupy London supporters
Barnet residents, anti-cuts campaigners and Occupy London supporters have just transformed a Starbucks in Barnet (811 High Road N12) into a library to highlight the impact of cuts upon women's services, as part of UK Uncut's national day of action, which sees more 45 actions happening across the UK. [1]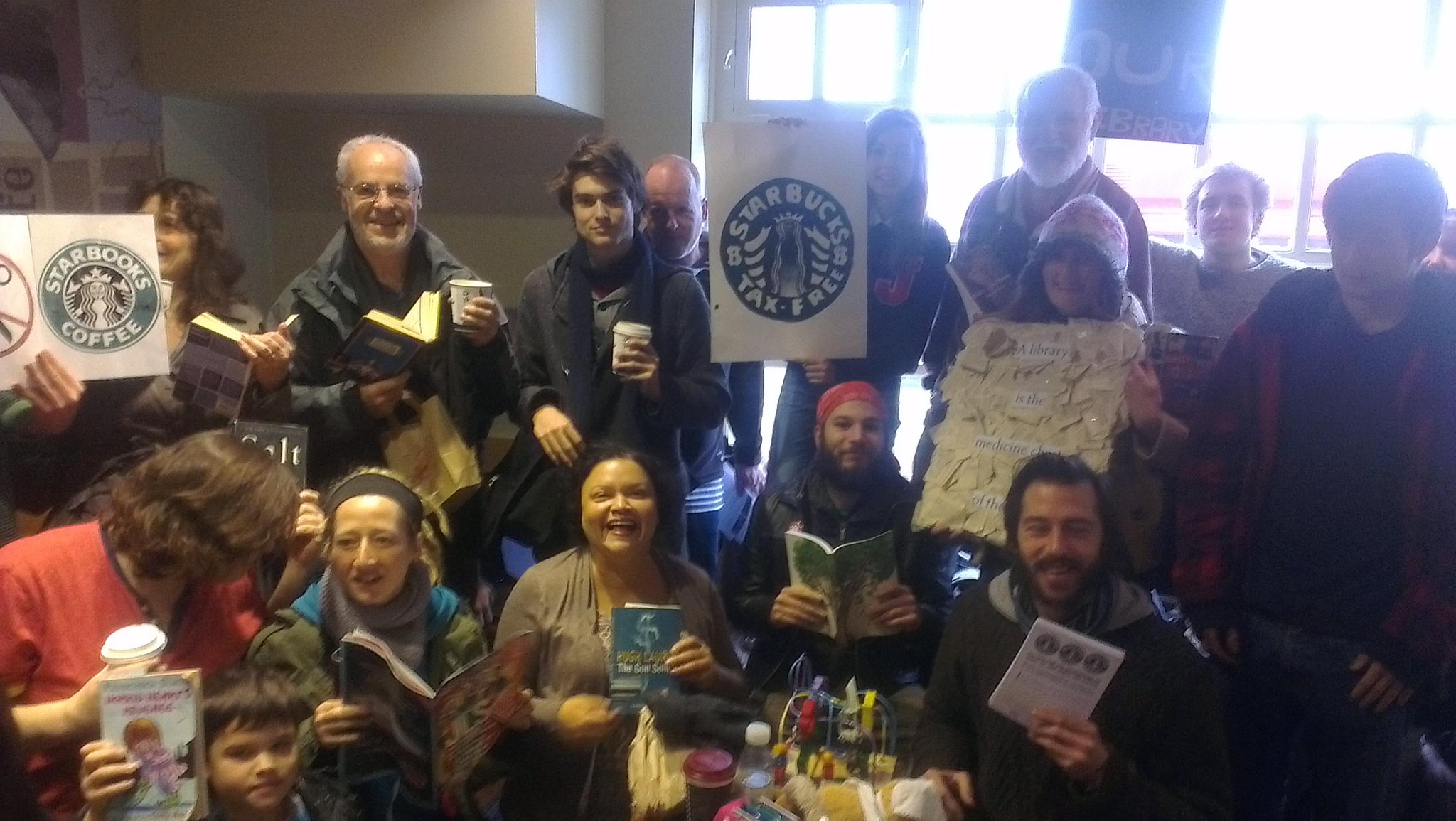 Entering Starbucks at 12 noon with around 40 protestors, a statement was 'mic checked': "Together we can stop these cuts, we can build a world where the vulnerable aren't attacked by the rich. We are here today to fight back!" Highlighting how the cuts to public services disproportionately impact women nationwide as well as as the particular circumstances in Barnet, Starbucks Barnet has never been such a fun place to be.  Further local residents and activists from Barnet Alliance for Public Services were outside, having been prevented from entering.
With the full impact of the cuts not yet realised and a further £10bn of new impending cuts announced in the Chancellor's autumn statement, today's action saw the Barnet community out in force highlighting services that could be saved if only Starbucks and others corporates would pay their fair share rather than engaging in tax avoidance. [2]
Local resident Sherri who joined the action today having never protested before, said: "I used to visit places like Starbucks. Now I can't bring myself to even go into one, well apart from to protest their tax avoidance! I came out to Starbucks today, because I have been involved with the the occupation of Friern Barnet Library, and seeing how the work there is making a difference, I feel now that I can act to save my local services "
Helen, a proprietor of a nearby independent cafe, The Buzz Cafe, said: "If we have to pay our taxes, I don't get why they don't.  If I didn't pay my taxes, I would be shut down."
Jen Baker, an Occupy London supporter added: "The elephant in the room is out of its cage. Tax avoiders are everywhere and the millionaires in Parliament haven't got the guts to deal with them. They and other tax avoiders better get with the programme, their pillaging of the UK's public purse, which puts profits over people, has got to end.
"In Barnet, we've seen wide-spead cuts with the Friern Barnet Library being a prime example of essential services lost due to the activities of company's such as Starbucks. At the same time, the planned privatisation of council services to tax avoiding corporations, evidences how widespread the problem is with the Conservatives in Barnet buddying up with their business pals, all at the expense of the local community, democracy and service standards.
"Paying lip service to your tax obligations is not on, and neither is shafting your staff – as we've seen with Starbucks threatening to take away staff benefits and Barnet Council Leader Richard Cornelius justifying its cuts saying "it's only 200 jobs". This systemic problem has got to end. Its time for a fairer system for all." [3]
Barnet for sale: residents say NO
Today's action follows Occupy London supporters, Barnet residents and Barnet Alliance for Public Services (BAPS) taking over a Barnet Council Cabinet meeting earlier this week in protest at the council's decision to approve an outsourcing contract to Capita – another tax avoider – worth at least £320 million, as part of the so called 'One Barnet' programme. [4] [5]
Seen as the billion pound Barnet gamble, this privatisation programme is viewed as privileging corporate commercial interests above the well being of the communities of Barnet, leaving a deficit of democracy in the Borough, introducing unaccountable private service providers, delivering lower standards of service whilst sacrificing quality for private profit. and a complete disregard for accountability, whilst costing more. [6]
Interrupting the meeting residents 'mic checked' a statement condemning the council's failure to represent their views. Having successfully derailed the meeting intended to hand over Barnet's service to Capita, the local residents decided to hold a peoples' assembly in Hendon Town Hall debating demands, strategies and future actions, including news that Barnet resident, Maria Nash, has instructed lawyers to seek Judicial Review of the One Barnet Programme.
This latest action in Barnet, follows the loss of essential services already in the Borough, such as the Friern Barnet Library, closed due to 'cuts' by Barnet Council in April 2012. Occupied in September 2012 by local residents and Occupy London supporters, as part of the campaign to force the Council to preserve the service, the reopened Library has enjoyed tremendous success, opening six days a week with more than 8,000 books donated and a jam-packed calendar of community events. [7] The UK Uncut action comes as the library occupiers prepare to face potential eviction from the Library, with a decision due to be handed down at Barnet Civil and Family Court Centre on 18 December. [8]
Notes to editors
[1] http://www.ukuncut.org.uk/actions/ / https://www.facebook.com/events/386379688109467
[2] http://www.independent.co.uk/news/uk/politics/george-osbornes-raid-on-middle-class-400000-forced-on-to-40p-income-tax-rate-8386957.html
[3] http://www.lbc.co.uk/barnet-outsources-200-jobs-out-of-london-64072
[4] http://occupynewsnetwork.co.uk/baps-action-press-release/; video of Council meeting being disrupted: http://www.youtube.com/watch?v=y0qFEuL4mVI&feature=youtu.be
[5] http://www.ethicalconsumer.org/linkclick.aspx?fileticket=X2oXolNsBiw%3D&tabid=1882
[6] http://barnetalliance.org/
[7] The occupiers entered the library building at the beginning of September this year following the closure of the library by Barnet Council in April 2012. The group of local residents and Occupy activists have ensured that it continues to serve the community, which in turn has shown its support by donating over 8000 books, as well as providing volunteers and continuing to use the library, which has become a thriving centre for the Friern Barnet Community again.http://fbpeopleslibrary.co.uk
[8] Barnet Civil and Family Courts Centre. St Marys Court, Regents Park Road, Finchley Central, London N3 1BQ